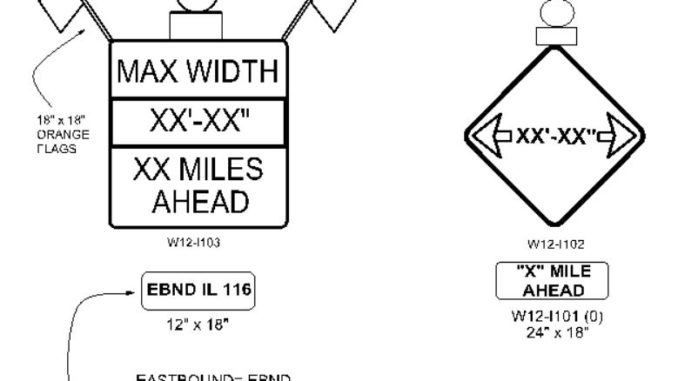 If you work in Illinois, occasionally, your maintenance of traffic designs may develop conditions where you have a lane width restriction. What are the signing requirements for it?
In the category of "sometimes-hard-to-find" resources, I've attached an older version of IDOT's Special Provision for "Width Restriction Signing." These signs are required whenever the roadway width between fixed, immovable elements, such as temporary concrete barrier, bridge parapets or guard rail, is less that 16′-0″.
The signage is can also be incorporated into projects where oversized loads could pose a threat to construction work zone operations, such as milling or paving.
If you are a Resident Engineer working on an IDOT project, don't forget that you need to submit OPER 2410 – Road Restriction Form. This information is entered into IDOT's traffic system and is used for oversized/overweight permit application reviews. You certainly want to make sure that your work zone is correctly identified in IDOT's system in the event that an oversized hauler intends to travel through your project. IDOT maintains a real-time mapping resource where traveled-way restrictions are posted.