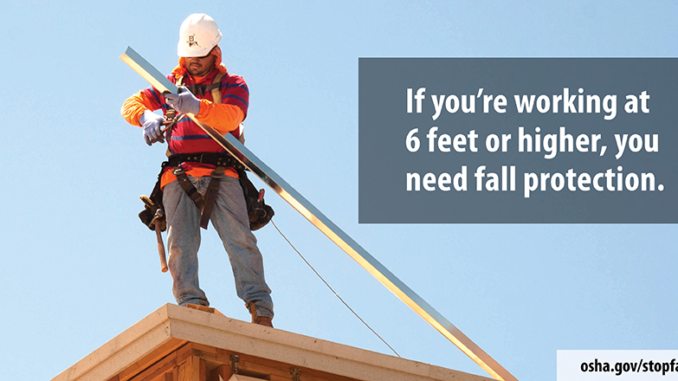 During the week of September 14-18, OSHA is sponsoring its 7th Annual National Safety Stand-Down to Prevent Falls, which is a national awareness campaign centered around fall protection.
Here's the deal: Falls are preventable. As those of us in the construction industry are well-aware of, opportunities for falls are everywhere we turn: Aerial lifts, bridge decks, trenches – We are surrounded by situations on-site, everyday, where falls can occur. OSHA's awareness campaign is chartered to remind all of us to be vigilant while we work.
The CPWR – The Center for Construction Research & Training has some excellent resources that you can use this week for your team meetings & Tailgate Talks – CLICK HERE FOR A LINK TO THE STOPCONSTRUCTIONFALLS.COM WEBSITE.

In a typical construction year, about one-third of all construction related fatalities are caused by falls. That's a frightening statistic.
Good safety practices start with awareness. It doesn't matter what role we play on a project: Whether you are a project manager or resident engineer, an inspector, operator, technician, surveyor, we all need to constantly be aware of the hazards around us.
See Something. Say Something.
Talking about safety never gets old.
Maintain situational awareness. Be on the lookout for potential hazards. Keep your eyes & ears constantly open. Be deliberate in your awareness and messaging with your teammates.
AWARENESS IS EVERYONE'S RESPONSIBILITY.
To help do my part, this year I plan to use the e-media channels that I participate in to carry the message. I'm don't do a whole lot on social median, but I think that this subject bears repeating over and over. The more we talk about safety, the more we build good habits, the better we are as an industry.
You'll be hearing from me this week. Join with me in helping spread the word of awareness. Let's do our part to help make sure that everyone we work with on our jobsites makes it home every night to their families.
#ivegotyoursix
Update October 1, 2020
I received links to NIOSH's kick-off webinar YouTube presentation and the slides – These are great resources for you to advance your knowledge & awareness on the topic.
2020 National Stand-Down for Safety Webinar Slides
2020 Kickoff: National Safety Stand-Down to Prevent Falls in Construction Questions & Answers