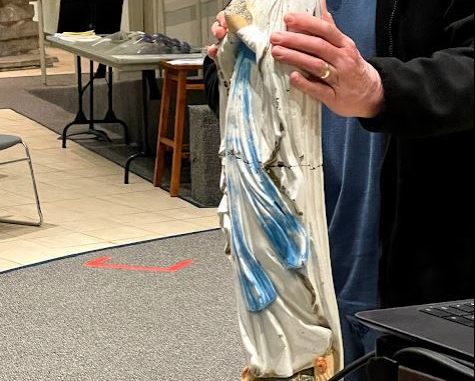 One of the cooler things you get to do when you run your own website is that you can write about whatever you want without the fear of having some entity taking it down because they disagree with you.

Now, don't let me scare you off with that opener. Admittedly and consciously, I purposefully try to stay away from topics that don't involve construction, infrastructure & civil engineering. I've chartered this site for us "Dirt Lovers" and not to be my personal pulpit. Although, if you've stumbled into it, you'll find some of my musing in the Rants section. I make it a point to not put my true blog-type opinion pieces up on the headline pages. But yes, they are tucked away for those of you who like to read about my thoughts that don't involve barricades or CPM bar charts…

So, admittedly, I'm taking a slight left turn tonight to share a little bit of my "outside the lines" stuff.

My wife Beth & I had the chance to listen to an "old friend" speak tonight. He made us laugh. He made us cry. And he did so much to shore-up my faith tonight that I'd be remiss if I didn't share it with you.
Chicago Radio & the 1990's

If you are from Chicago and grew up listening to radio in the 80's & 90's, then you certainly know the names Steve Dahl, Garry Meier, Johnathan Brandmeier & Kevin Matthews. These guys defined Chicago radio in that era. I certainly don't need to remind you of their popularity. They were staples in so many of our lives. We all grew up with them, listening to them, laughing with them, talking about them. Such a great time to be a Chicagoan.

Then along came satellite radio. The Internet. Apple music. It seemed like radio came to a screeching halt. And with that speed bump, their voices went in other directions.

Of those guys, Kevin Matthews was always my favorite. When Chicago lost his voice on the radio in 2005-ish, I remember how bad my friends & I felt. I wish I'd had the sense back in the day to keep the cassette recordings I had made of his shows, just to be able to re-listen to all of the fun that he and his crew brought to so many of us on a daily basis. It's unfortunate that we have to miss things in life to truly be able to appreciate how good they were when we had them.

So why am I writing about Kevin Matthews? Well, his is a wonderful story….

Kevin spoke tonight at our parish, St. Mary Immaculate, in Plainfield, Illinois. Years ago, Kevin wrote a book titled "Broken Mary," which is part biography, part stand-up comedy, part healing miracle and all about his faith journey. It tells the story of how Kevin came to find a discarded statue of the Blessed Virgin Mary and how the statue changed not only his life, but the lives of countless others who have encountered it.

I'm not going to spoil Kevin's story or the book: It is a wonderful read that certainly has a Catholic bent to it, but regardless of your faith denomination, has a message for all of us.

I don't talk about my faith much here at the website, but if you know me, you know I am a practicing Catholic and very proud of my faith. I am not an evangelist, I'm not really good at talking about my faith in public, but it's a very important part of my life. I probably should talk about it more, but I don't. That's just me.

So last Friday, I was reading our parish's weekly email newsletter, and as I'm scrolling through the headlines, I see an article that is titled "An Evening with Kevin Matthews and Broken Mary." I said WHAAATT????!!! Kevin is coming to St. Mary's??!! No way!! I asked Beth if she want to go – Of course she would!

So I reserved two e-tickets for us: We were going to get to see Kevin!! And he was bringing the Broken Mary statue with him – Heaven, keep me on my feet!!
An Evening with Kevin and Broken Mary

We got to church a bit before the doors opened and ended-up getting seated in one of the front pews of the church. Kevin was already there, being helped by our parish's technology guy, getting his slides setup for this presentation. I must say: I had that little "gush" of Star Struck hit me when we initially saw him. Beth & I and our friends had been to so many of Kevin's events & concerts back in the '90's in his "rock star" days, and here he was, 25 feet from us in the front of our church's altar. Kind of surreal….

Kevin spent an hour speaking to the group of about 200. He talked about radio. He talked about his health challenges. He talked about his faith. Everything was ad-libbed: No notes. Kevin spoke from his heart.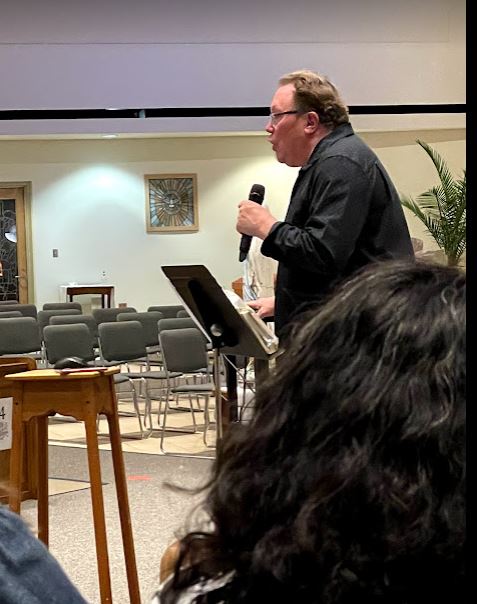 I won't be able to capture all of the feelings I was experiencing as he told us stories about his radio days: Plenty of laughs, a couple of tears, so many great memories were relived. But when Kevin shifted gears and told the story of the statue of Mary, how it came into his life and what a powerful figure it became to him and so many who have come to know it, words cannot describe the groundswell of emotions I was feeling listening to him.

Kevin talked about the statue – How he came upon it, what he did with it, and what it has been doing for people. He talked about the power of the rosary. Kevin had some very special rosaries with him and told stories of how the rosary has worked in his life. I couldn't wait to get home and hold mine…..

Simply put: The statue has brought healing to people. It has brought people back to the faith. It has strengthen the faith of thousands.

I felt it strengthening my faith minute-by-minute. It's hard to put that feeling it into words – It just did.

After Kevin was done speaking, we had a chance to see & touch Broken Mary. As I did, I simply asked Her to watch over our family and to keep us in Her midst.

On the way out of church, Kevin was sitting at a table signing books and talking with folks. We bought an extra copy of the book. Kevin signed both copies of our book, we told him we were long-time fans and thanked him for spending time with us. I wish we could have talked to him longer than we did, but the line behind us was long…
A Powerful Evening – For Both of Us
As Beth & I sat down in the truck, we both said that we'd laughed and cried a lot. I said to Beth that there was a reason we were there tonight. Reading the bulletin. Tickets were still available. We got in. We got to sit in the front. We got to see Kevin, to listen to the stories. We got to meet Broken Mary. Together. Each of us had our faith rekindled. It was a powerful evening.
Sometimes, a piece of heaven comes to us from the strangest places, at the strangest times, for unknown reasons that we simply cannot fathom or rationally explain. Faith can be a hard concept for the modern mind to sometimes digest, but when you have it, it's a superpower. I believe that God works that way for us. I can't explain it….

It is said that the rosary is a "Spiritual Weapon." My is with me every morning for my morning prayer time, my favorite part of the day. We hear so much of the need for people to try meditation, how healthy it is for us. For me, I don't need to sit in a lotus position and focus on my diaphragm counting breaths, quiet time in prayer is my meditation.
Close-Out

This post, this message is a simple reminder for me and anyone who encounters it: Continue to have faith. Continue to pray. Take time out of every day to spend some time in stillness. Create a space for it. In this day and age of constant distraction, it's easy to lose focus on what we are supposed to be doing to make sure we are leading a worth life, but we all have the power to put things into the Right Hands.
And if you are as intrigued by Kevin's story, below I've provided a couple of resources to get you on your way – Check out the links (below):