The winter months for most construction engineers, at least in northern climates like here in Chicago, involve time in the field office crunching numbers & closing out a season's worth of quantity entries, materials documentation and auditing contractor invoices.
I got a reprieve from that this year.
This winter, I'm getting a chance to get back into "Design Engineering Office Life." I've transferred to one of our company's offices and have been helping some of our civil design engineers assemble plans for a widening & resurfacing contract in the western suburbs. It has been a great change of venue, affording me a chance to get away from the plug-and-chug atmosphere of a construction field office and put my "Thinking Cap" back on working as a designer.
One of the tasks I've been platooned with is that of assembling the project's sidewalk accessibility transition details. For me, it has been a time for rejuvenating some of my Microstation skills as well as tackling the nuances & complexities that curb ramp design standards require.
Crash Course in ADA Ramps
As most of us know, the design & construction of sidewalk ramps is no longer a simple installation as it once was back-in-the-day. There was much legislation and litigation in the past couple of decades: Disabled citizens & activist groups were pushing municipalities, under the provisions of the 1990 Americans with Disabilities Act (ADA), to make improvements to their existing sidewalk ramps that were not navigable by users with impairments. The actions & lawsuits claimed that the municipalities had an obligation to provide and upkeep a network of walkways so that were usable by all Americans. In years following the litigation, nationally-compliant standards were developed by the United States Access Board: These standards have become the basis for much of the construction details that we are now designing & building.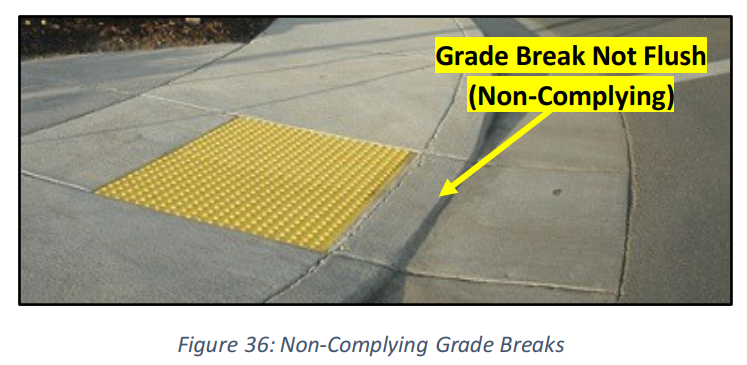 This will be a quick post, not a deep dive into All Things ADA. I wanted to share a few of the excellent resources that I have been using as references & guides in my work assembling our project's sidewalk ramp details: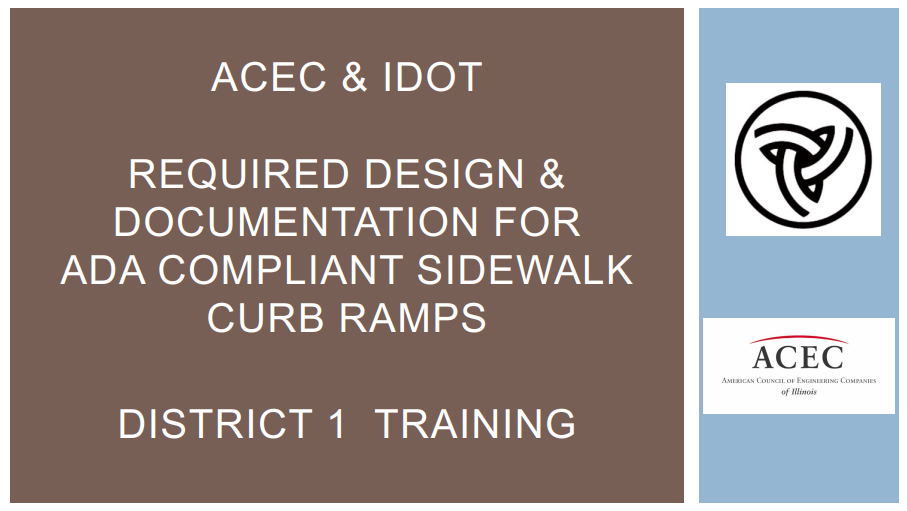 I stumbled onto this gem of a document while doing a simple Google search – Mr. Steve Schuessler, PE and Mr. Jim McNally, PE developed an excellent series of slides providing common situations involving sidewalk ramps and how the standards can be applied. The guys have done a fantastic job assembling many of the criteria needed to both design & construct compliant ramps – This is a great resource to add to your toolbox.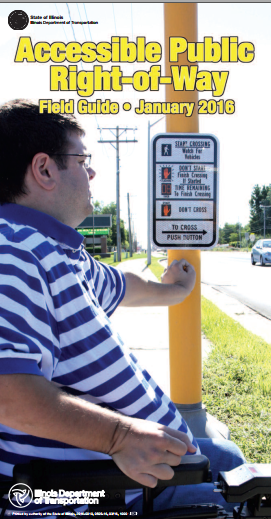 IDOT developed a field guide that can be used by both design and construction personnel in the initial site assessment of existing ramps or conditions requiring ramps, as well as construction engineers & contractors responsible for installing ramps. The Guide is presented in checklist format with tons of easy-to-use graphics.

This IDOT form is a box-by-box checklist of the various geometric criteria involved with both designing & constructing ADA ramps. IDOT has provided both a series of checklists, as well as included graphical depictions of the checklist queries. I have yet to have to implement the use of this form (since the projects I've worked on have been predominantly expressways….) but I'm sure, at some point, I'll get the chance.

Drawings for the various, typical sidewalk & curb transition details. I've included a link to IDOT's "Highway Standards" webpage where you can navigate to the standard(s) you are looking for.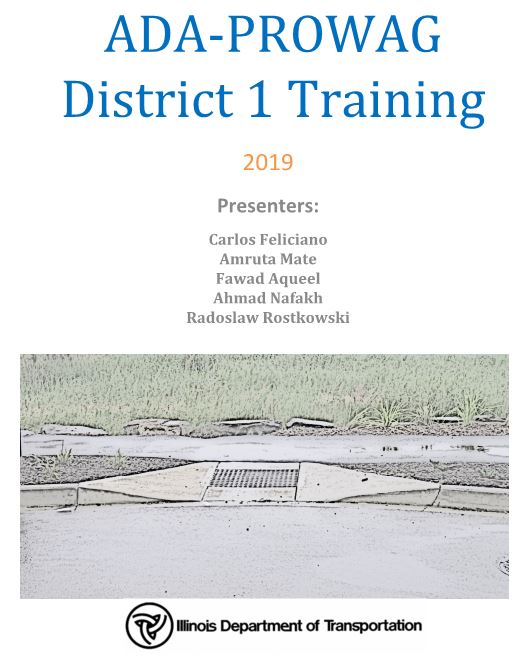 In 2019, IDOT sponsored an in-depth training session on "All Things ADA." Presented by Carlos Feliciano, Amruta Mate, Fawad Aqueel, Ahmad Nafakh and Radoslaw Rostkowski, the full-day seminar covered, in-depth, multiple aspects of accessibility issues, design requirements and recently-developed automation tools designed to assist designers in developing plan details for accessible routes of travel.
This is a deep dive, but the classroom slides are a 1-stop shop for accessibility requirements & design considerations.

So this one is a bit beyond my technical knowledge base, but as part of the PROWAG development efforts, IDOT developed an automation tool that allows designers the ability to check their work for ADA design conformance. The tools use a combination of Microstation X,Y & Z design points and processes the data through an Excel spreadsheet designed specifically for data point processing – Pretty slick.
I've provided a link to the Illinois ACEC webpage where links to the tools and manuals can be found:
IDOT ADA Automation Tool – EXCEL
IDOT ADA Automation Tool – User Manual
I had a student reach out to me with a link to a great article on pedestrian safety. Now you might think, "I walk everyday, it's like breathing – I don't need to think about walking, do I?" Well, for the very same reasons that we should try to start our workday with a Tailgate Talk, it is always useful to occasional review the basics, no matter how mundane or understood the task at-hand might be.
After Actions
While many of you might already be familiar with these documents & standards and their nuanced applications, many of US are not. I encourage you to spend 15-20 minutes with your morning cup of coffee and do a quick scan of each of these documents, just to get a flare for the level of detail involved with curb ramps.
The exacting standards presented by the requirements has, for me, been an immersion into the need for tight tolerances. I've heard several stories from associates who have had to construct ADA-compliant sidewalk ramps and have watched contractors remove & replace entire sidewalks because they were not compliant with some aspect(s) of the requirements.
Those of us in the heavy highway construction business are used to being able to work with a "sloppy" 0.01′ or 0.02′ – ADA ramps, however, require precision that most of us aren't used to. Bring you're A-Game and a Smart Level to this aspect of your project as the tolerances borne by the ADA have zero room for error….
If you have any experience in dealing with either the design and/or construction of curb ramps, or have other resources that would be of interest to the readership, drop a comment below and pass on what you know – The more WE know, the better WE are.