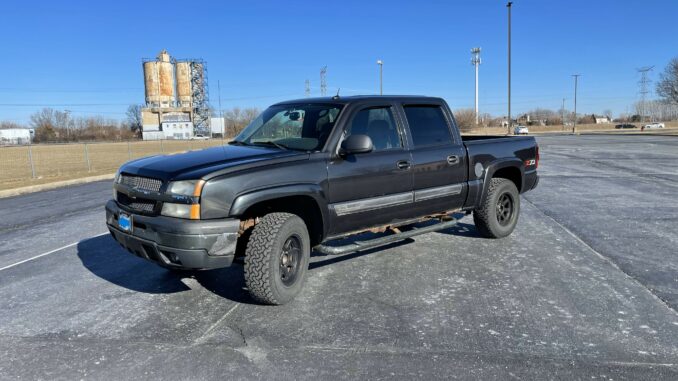 Thank you for checking out our 2004 Chevy Silverado 1500 that we are selling. We wanted to share with the potential buyer(s) a little bit of background on the vehicle that we thought would be helpful to you in deciding if this is a vehicle you'd like to purchase from us.
I purchased the truck from a co-worker in 2018 with 220,840 miles on it. I was just looking for an "around town" pickup, and other than a few trips back-and-forth to Iowa to move our kids in-and-out of their colleges, the truck has just been a local runner for errands, getting materials from Menards, etc. I'm looking into upgrading my truck, so we've decided to sell this one.
It has the 5.3L V8 engine that runs really well. Our family takes good care of all of our vehicles, we keep our fleet well-maintained. In the 5 years we've owned it, we've only put 11,000 miles on this truck. Here's a list of the repairs we've had done to it:
226,700 Replaced front & rear brake pads
227,650 Replaced front brake lines
228,950 Replaced serpentine & A/C belts
229,650 Replaced belt tensioner & evaporator can
229,600 Replaced alternator & battery
231,700 Brake line leak repaired
The truck is almost 20 years old, so (as could be expected…) it does have some defects to point out:
-Body has scuffs & dents, and there is rust running along the doors (both sides) and in the truck bed. The previous owner blacked-out all of the chrome trims which are all peeling.
-The "Air Bag" & "ABS" dash lights are always on (they've been on since I bought it….). At very low speeds (such as in a parking lot) the "Brake" light will come on, but it goes off once you pick up a little speed.
-The main dash panel lights function (shown in the picture, above), but there are control backlights out (temp controls, light switch controls & 2WD/4WD buttons).
-The rear passenger door needs to be locked/unlocked manually (electronic lock doesn't work).
-The steering has always had a little play in it since I bought it.
-When in reverse at very slow speeds (like backing into a driveway), there's always been a "buzz" of vibration that comes from the front right side. It doesn't sound mechanical, I've always assumed it's body-related (like maybe a loose fender….). I've never tried to diagnose/repair it, it's more of a nuisance to me.
Terms of Sale
If you scroll through this website, you'll see that I'm an engineer, not an attorney. I have only privately sold two other vehicles in my lifetime, so the process of selling a car isn't one that I'm involved in very much. I know that we'll need to exchange some paperwork as part of the transaction: I have used a couple of websites to chart the course:
https://www.ilsos.gov/publications/pdf_publications/sos_dop141.pdf
https://www.illinoislegalaid.org/legal-information/how-do-i-sell-my-car
We will use a standard "Bill of Sale" for the transaction (click here to see the draft copy). We will accept a bank certified check as payment, and will ask that you provide a copy of your driver's license for record purposes of the transaction.
Contact Us
We live in Plainfield. If you are interested in stopping by to check it out and take it for a test drive, contact me and we'll find a day/time that works.
–Bob
rjhilde66@yahoo.com (email)